Center for Plastic Surgery
3299 Woodburn Road, Suite 490
Annandale, VA 22003
Phone: (703) 560-2850
Monday - Friday: 8 a.m.–5 p.m.

Center for Plastic Surgery
5550 Friendship Blvd, Suite 130
Chevy Chase, MD 20815
Phone: (301) 652-7700
Monday - Friday: 8 a.m.–5 p.m.

FACE360
Go beyond the facelift with FACE360, a comprehensive facial rejuvenation approach unique to Washington D.C.'s Center for Plastic Surgery. At our locations in Annandale, VA, and Chevy Chase, MD, you can experience a new kind of consultation and learn about all your best options for rejuvenating your look, from surgery to skin care.
Whether you have an upcoming event where you want to look your best or you are simply ready to begin a new chapter of self-confidence, your team of specialists is ready to help you bring your goals to life as we have for many patients from Washington, DC; Chevy Chase and Bethesda, MD; Arlington and Fairfax, VA; and surrounding areas.
FACE360

Before & After Photos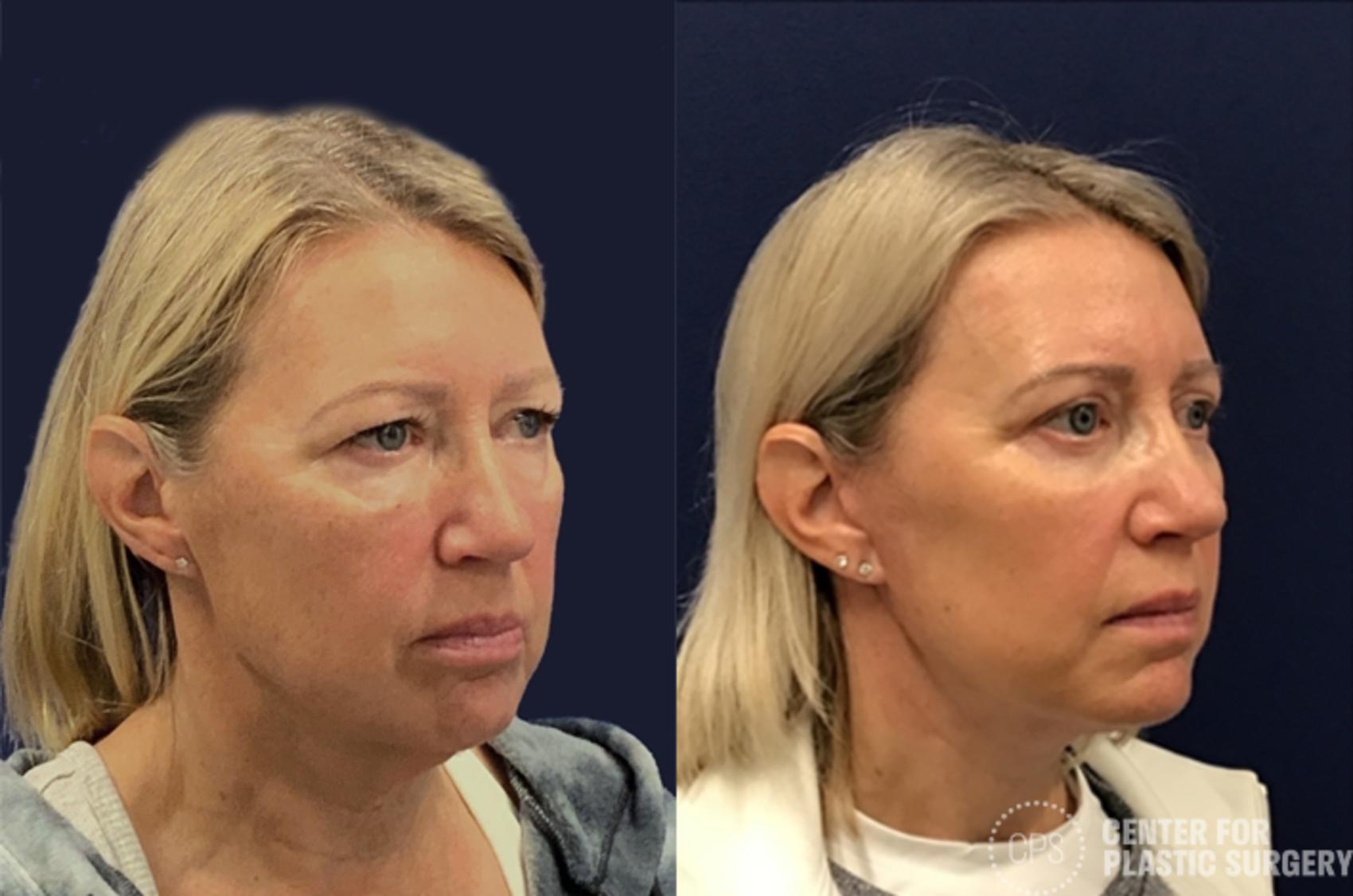 Before and After of FACE360 3/4 view
Case #195
This patient received a FACE360 transformation. This transformation included a lower facelift, blepharoplasty, BOTOX, permanent makeup, and a skin care regimen.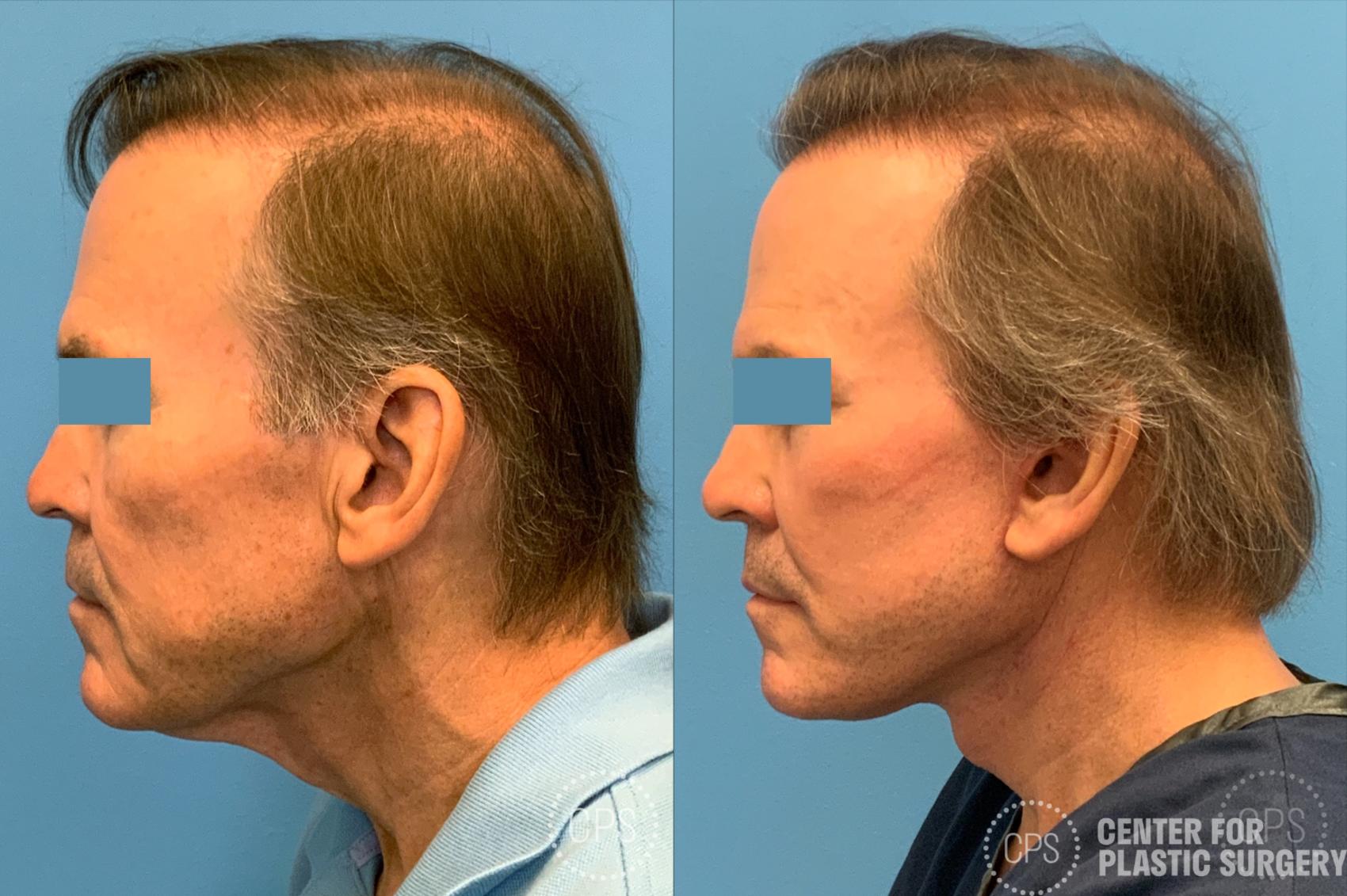 Before & After
Case #203
This male patient in his 60s wanted to improve the appearance of his neck and face following significant weight loss. To achieve this rejuvenated look, the patient underwent a facelift, TCA peel, and fat grafting to the mid-face, and was placed on a medical-grade skincare regimen.
Read More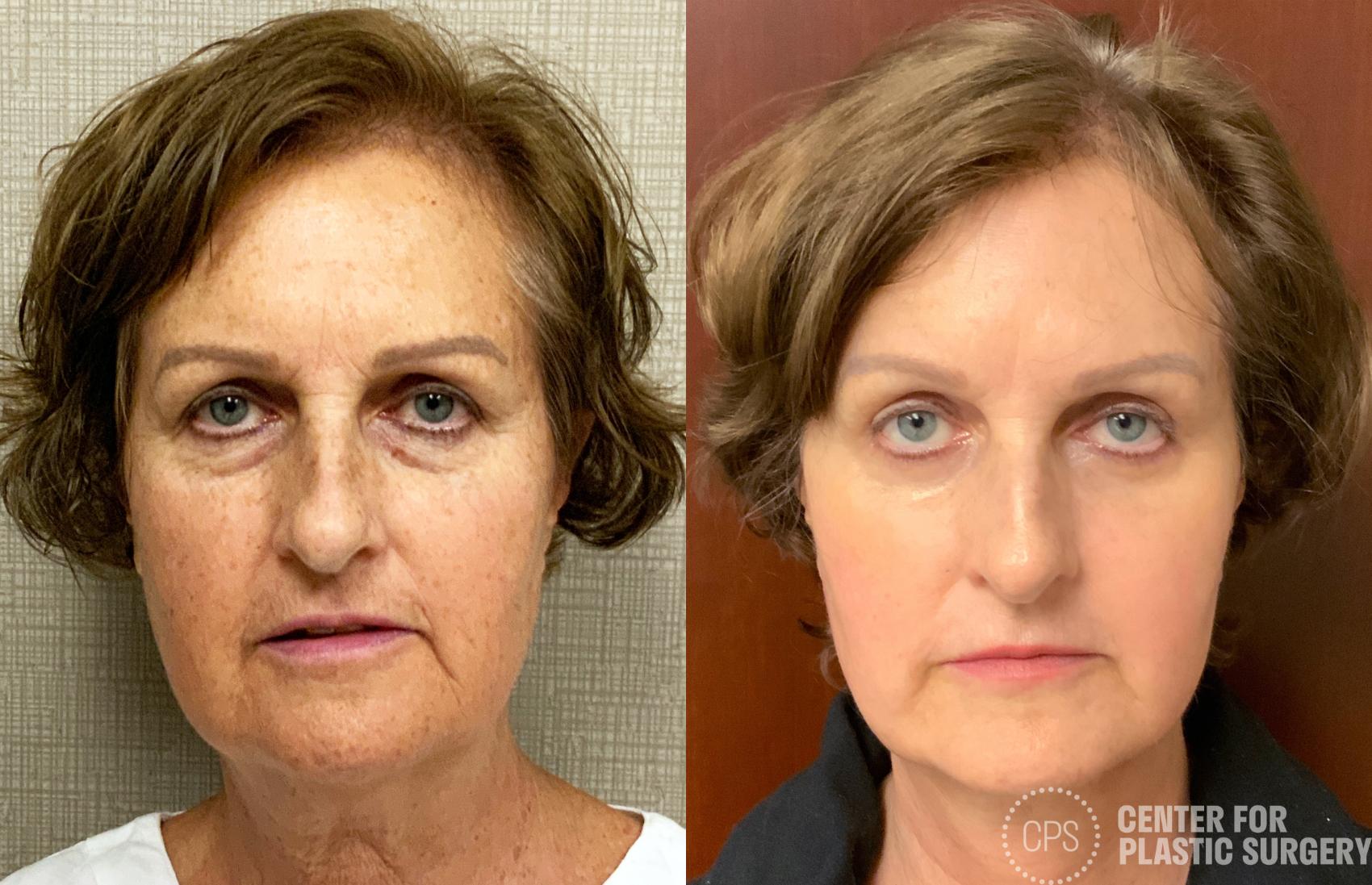 Before & After
Case #207
This patient underwent a FACE360 transformation. FACE360 offers a comprehensive consultation where patients will receive a customized plan for their unique aesthetic goals. This transformation consisted of a lower facelift, blepharoplasty, TCA peel, BOTOX, filler, and a medical grade skincare routine.
Read More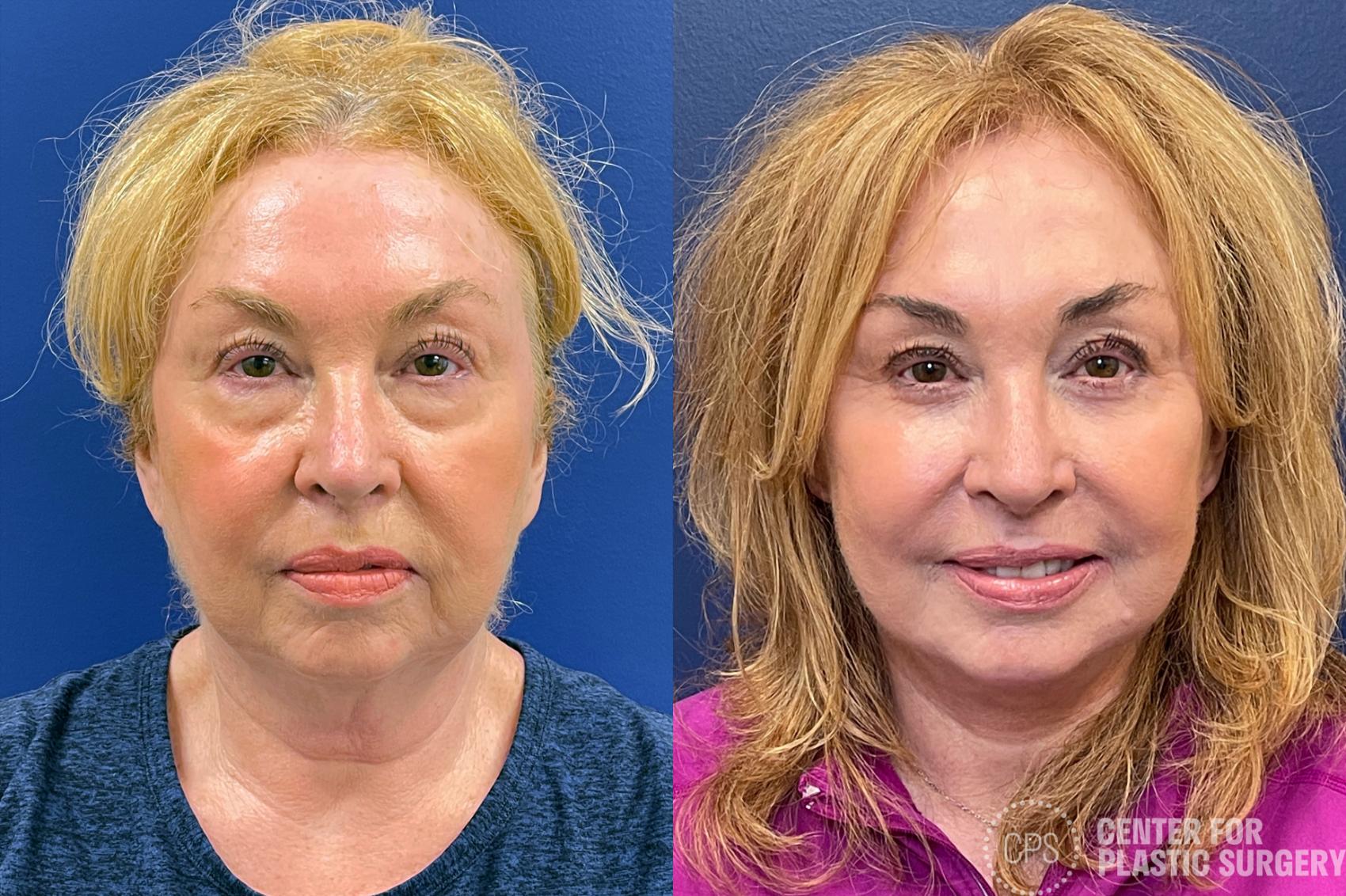 Before & After
Case #209
This FACE360 consisted of a facelift, blepharoplasty, fat transfer, BOTOX, and a full-face TCA peel, and was put on a full skincare regimen.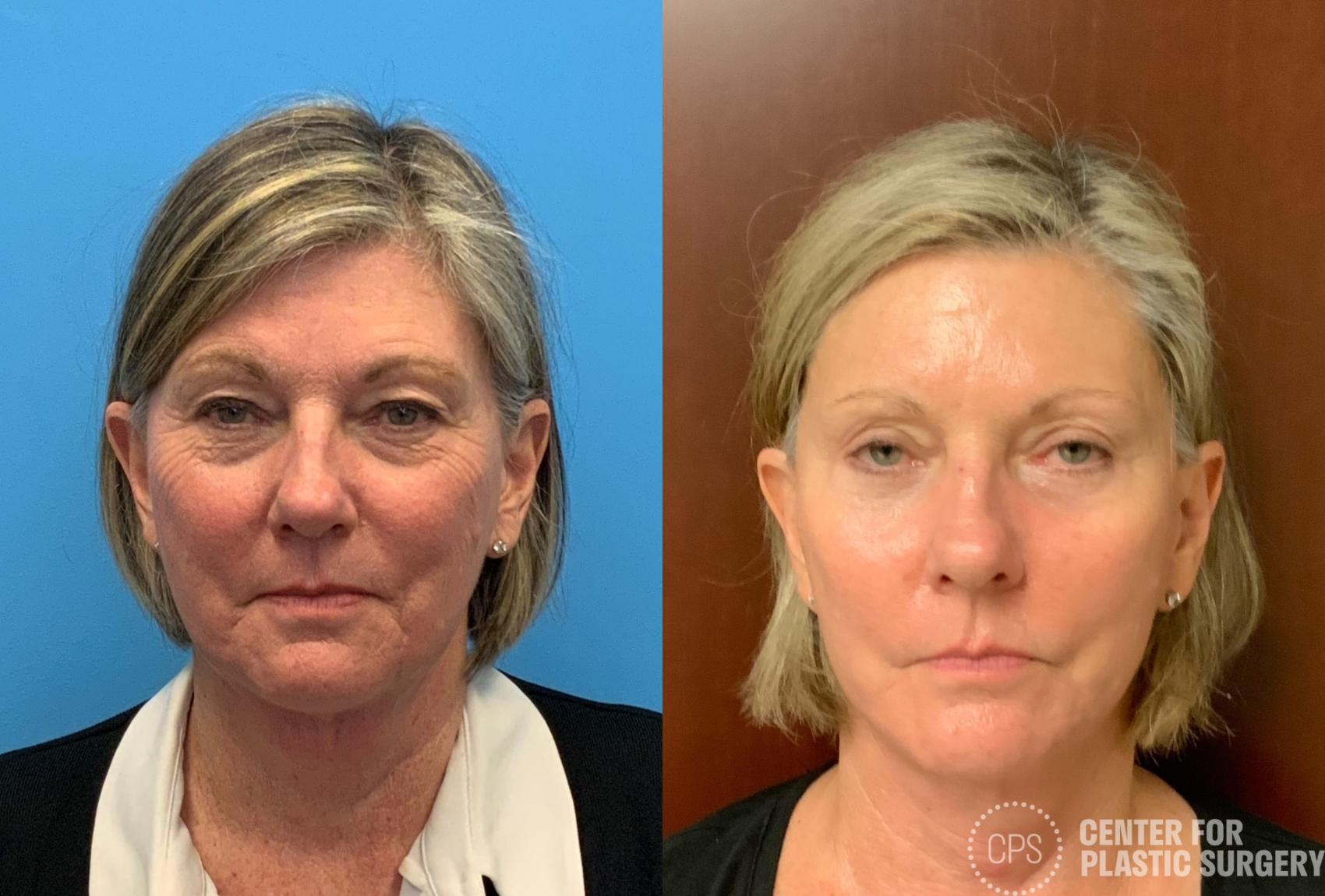 Before & After
Case #404
Patient underwent Face 360 which included a face and neck lift w/ submental lipo, upper and lower eyelid blepharoplasty.Results are shown 5 months post op.
Keep in mind that each patient is unique and your results may vary.
What Is FACE360?
FACE360 is a complimentary program designed to create your ultimate customized treatment plan through a single, convenient consultation. When it comes to addressing signs of aging, surgery alone isn't always the full story. While a facelift may take years off your face, for example, combining it with laser skin resurfacing or injectables can take your results from good to outstanding.
FACE360 makes it easy to address your facial structure, skin quality, and more within the same treatment plan so you can look your best as quickly and for as long as possible. You'll never feel rushed or pressured. Most consultations take at least an hour as providers take as much time as needed to provide custom guidance and recommendations.
Why FACE360?
Board-certified plastic surgeon Dr. Wesley Price developed the FACE360 approach after noticing that people who came in for facial plastic surgery consultations were missing out on all the benefits of combining surgery with aesthetic treatments and skin care.
His philosophy behind the program was to coordinate each department so anyone who visited with an aging concern could access the expertise of various professionals, all within the same appointment. The outcome: a more convenient, comprehensive consultation process with more holistic and longer-lasting results.
The FACE360 Process
What can you expect during your visit? Here's how it works.
Step 1:

Facial Plastic Surgery Consultation

Meet with a board-certified plastic surgeon to discuss your facial plastic surgery options.
Step 2:

Aesthetics Consultation

Consult with an aesthetic nurse to discuss minimally invasive treatments such as injectables, and potentially have your first treatment done right then.
Step 3:

Skincare Consultation

Speak with an aesthetician to build your perfect at-home skincare routine.
The final step is scheduling your procedures of choice and getting ready to reveal a younger and more radiant you. While you may not opt to pursue all the treatments your specialists recommend, you'll leave with abundant information on all the anti-aging options available to help you achieve your goals.
Step 1: Your Facial Plastic Surgery Consultation
During your surgical consultation, you will meet one-on-one with one of our board-certified plastic surgeons to talk about possible surgical procedures that may benefit you. Your surgeon will examine your face, discuss your unique goals and concerns, and talk over what your potential surgical plan may look like.
While everyone receives customized recommendations, popular treatment options include:
Step 2: Your Aesthetics Consultation
Next, you'll meet with an aesthetic nurse to explore nonsurgical treatments and how they may resolve your concerns or work in concert with your surgical procedures to enhance your results. In some cases, you may be able to have certain treatments performed right then.
Some of the most commonly recommended treatments include:
A Reputation Built on Results
I get my Botox and filler's from Cheryl! I feel she does a very youthful and natural look that addresses...
Phenomenal and empathetic staff. Very accessible and easy to understand. Also very non judgmental
Always excellent service by the entire staff!
I have been coming to CPS for years. I enjoy my visits with Cheryl. We usually chat for a bit before...
Step 3: Your Skin Care Consultation
Before you leave, our skin specialists will send you home with a personalized selection of at-home products. Together, you'll design an optimized skincare plan complete with medical-grade products from brands like Obagi®, ALASTIN® Skin Care, Center for Plastic Surgery's own line, and more.
You will also have the chance to talk about services such as:
Shop Products Now
Get the Full Story on FACE360
Download Your FREE e-Guide
Do you want all the details on the FACE360 process? Get all the info you need in our e-guide, Your Guide to FACE360. You'll get a step-by-step road map of what to expect, answers to FAQs, and insight from real patients who have improved their looks and their lives with FACE360.
Fill out the form below to download your free copy!
Meet Your FACE360 Specialists
Get to know the team you'll meet with during your FACE360 consultation. Our award-winning doctors and skilled aesthetic specialists have decades of combined experience creating natural-looking facial rejuvenation results. Find out why locals know and trust our established excellence.
FACE360 Before & After Spotlights
Curious about what real FACE360 transformations look like? Find out how these 3 real Center for Plastic Surgery patients achieved their results.
Case #1
This 63-year-old took years off her appearance with a combination of:
Lower facelift to improve jawline definition
Blepharoplasty to open the eyes and address under-eye bags
TCA peel to give the skin a more even and radiant glow
BOTOX to smooth away fine lines
Dermal fillers to enhance facial contours
Medical-grade skin care for ongoing rejuvenation
While a facelift and blepharoplasty gave her face a more youthful shape, skin treatments reversed the effects of sun exposure to give this woman an agelessly elegant appearance.
---
Case #2
Following significant weight loss, this 66-year-old man rejuvenated his look with:
Facelift to remove excess skin on the lower face and neck
TCA peel to address skin pigmentation and texture
Fat grafting to the mid-face to restore lost volume
Medical-grade skin care to keep the skin fresh and healthy
Combining his facelift with a peel gave his face both a tauter structure and a more youthful glow.
---
Case #3
This 53-year-old woman refreshed her look with:
Lower facelift to define and rejuvenate her jawline
Blepharoplasty to give the eyes a more awake and rested appearance
BOTOX to minimize fine lines
Permanent makeup to subtly enhance her natural features
Medical-grade skin care to restore and protect the skin
While her facelift and blepharoplasty gave her great results, her injectables, skin care, and makeup took her transformation to a new level.
Visit the photo gallery
An Overview of Our Top FACE360 Procedures
Which procedures are most commonly included in FACE360 treatment plans? Learn more about our most popular recommendations and what they can do for your appearance.
Concern
Treatments
Facelift

Tightens sagging skin on the lower two-thirds of the face
Reduces jowls and drooping lower face tissue
Gives the face a naturally more lifted look

Blepharoplasty

Lifts sagging upper eyelids
Removes puffy bags in the lower eyelids
Fills and smooths hollow tear troughs

Brow Lift

Raises a drooping brow or forehead
Minimizes deep forehead wrinkles

Neck Lift

Removes loose neck skin ("turkey neck")
Minimizes the appearance of vertical platysmal bands

BOTOX Cosmetic

Smooths dynamic wrinkles (crow's feet, forehead lines, frown lines, and more)
Minimizes vertical platysmal bands in the neck

Dermal Fillers

Restores lost volume beneath the skin
Fills in wrinkles and folds
Enhances facial contours (cheeks, temples, chin, lips, and more)

HALO

Corrects fine lines and wrinkles
Evens out skin tone, texture, and coloration
Stimulates ongoing collagen production

Chemical Peels

Improves skin texture
Addresses hyperpigmentation
Often administered during a facelift
The Mother-of-the-Bride Special
The FACE360 process is especially popular with mothers of the bride (or groom) who want to look their best on the big day. Let us know if you are planning for an upcoming wedding, and we'll design a personalized treatment countdown to help you reach your goals in time for your special occasion.
Request Your FACE360 Consultation
Putting your best face forward begins with your complimentary consultation. If you are ready to get started with your FACE360 consultation, please request your consultation online or give us a call at (703) 560-2850.